10 Reasons to Call a Locksmith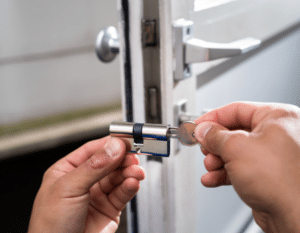 Locks and keys are an integral part of our daily lives, and we often take them for granted until we face an issue that requires the expertise of a locksmith. Whether you're locked out of your home, need to enhance your security, or have encountered a malfunctioning lock, a professional locksmith can be your savior. In this blog, we'll explore ten common reasons to call a locksmith, highlighting the valuable services they provide.
Locked Out of Your Home or Car: One of the most common reasons people call a locksmith is when they're locked out of their home or car. Locksmiths have the tools and skills to safely unlock doors without causing damage, providing swift access when you need it most.
Lost or Stolen Keys: Misplacing your keys or having them stolen can leave your property vulnerable. A locksmith can rekey or replace your locks, ensuring that the missing keys won't compromise your security.
Broken or Malfunctioning Locks: A malfunctioning lock can be a major security concern. Locksmiths can repair or replace damaged locks, restoring the security of your property.
Enhancing Home Security: If you're looking to improve the security of your home, a locksmith can assess your property and recommend high-security locks, deadbolts, and other measures to deter potential intruders.
Rekeying for New Homeowners: When moving into a new home, it's essential to rekey or replace the locks to prevent previous occupants or anyone with access to old keys from entering your property.
Replacing Old Locks: Old locks may become less effective and more susceptible to break-ins. A locksmith can replace outdated locks with newer, more secure options.
Installing Master Key Systems: For businesses or multi-unit buildings, master key systems provide convenient access control. Locksmiths can design and install these systems to enhance security and simplify key management.
Safe Installation and Maintenance: Locksmiths are experts in installing and maintaining safes. Whether you need a home safe or a commercial-grade safe for your business, a locksmith can help you choose the right one and ensure it functions correctly.
Key Duplication: Sometimes, you may need extra keys for family members or employees. Locksmiths offer key duplication services, ensuring that you have enough keys to go around.
Emergency Locksmith Services: Lock-related emergencies can happen at any time. Locksmiths are available 24/7 to provide emergency assistance, such as unlocking your car in a parking lot late at night or securing your home after a break-in.
Locksmiths are the unsung heroes of our security, providing a wide range of essential services to protect our homes, businesses, and vehicles. From lockouts and key replacements to security upgrades and emergency services, locksmiths are there when you need them most. Remember that finding a reputable and trustworthy locksmith is crucial, as they play a significant role in keeping your property and loved ones safe. The next time you face any of the ten scenarios mentioned above, don't hesitate to call a professional locksmith to resolve the issue swiftly and effectively.